Wastewater Treatment Plants in an ISO Container for 80-350 PE
Wastewater Treatment Plants in an ISO Container for 80-350 PE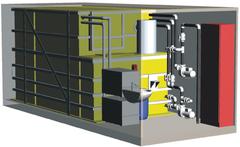 The AS-ISO MBR line of wastewater treatment plants is designed for the treatment of municipal wastewater. The treatment plants use aerobic treatment technology with a membrane separation of activated sludge from treated water. The treatment plants are optimized to achieve a highly effective treatment, so that the treated water can be reused as service water
Photo Gallery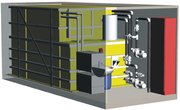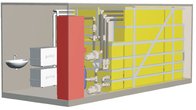 Advantages of the AS-ISO MBR
Treated water can be used as service water
Complete technology for the aerobic treatment of wastewater, incl. the operating part - all included in the price
Insulated and lockable structure
Customer support and maintenance
Minimum preparation construction work
Easy operational handling and reliability
Above-ground self-supporting structure
Possibility of on-site chemical treatment of membranes
Description of the technology:
Wastewater is pumped into the mechanical pre-treatment compartment (A), where solid floating and sedimentable substances with a diameter greater than 1 mm are removed. The substances separated in this way are transported by a suction vehicle for disposal. From the mechanical pre-treatment compartment, wastewater flows via an overflow to the activation compartment (B), where pollution is removed biologically, alternately under aerobic and anaerobic conditions. If necessary, this compartment may also be used as an accumulation tank. From the compartment (B), water is pumped into the activation compartment (C), where an ultra-filtration module (D) is installed. The activation compartment (C) is used for the simultaneous biological treatment of wastewater and ultra-filtration through membranes. The treatment plant is fitted with a fine-bubble aeration system that is designed for aerating the tanks, and in the case of the compartment (C) also for cleaning the membrane modules.


Installation of the treatment plants
The treatment plants are installed on a concrete base plate with prepared connections of pipeline systems. Except the connection of the power supply and possibly the control elements of adjacent structures (floaters in the pumping station) the treatment plants do not require any electric installation work. The wastewater treatment plant is put in operation by the supplier or an authorized service organization. With regard to the installation of the technology in ISO containers, the treatment plants are transportable both by truck and by boat. In the place of installation, the openings for pipe passages and ventilation openings must be cut out of the walls of the ISO containers.
Maintenance
Maintenance is carried out by authorized service centres.
Maintenance of the membranes and the setting of the extraction of excess sludge is carried out as necessary, in accordance with the operating rules, by trained operators of the wastewater treatment plant. The membranes are generally cleaned or replaced once every half a year.
Guarantee
WWTP technology - 24 months; tanks - 5 years.